This bean to bar chocolate house works together with small cocoa growers in the area to make one of its square bars of chocolate with the flavor of the original Creole cocoa from Choroní.
The Darïku chocolate house makes part of its products with ancestral Creole cocoa that small cocoa farmers from Choroni they conserve in their plantations located hours away from hiking in the mountains near the coastal town of Choroní.
"At first we worked with various cocoas of origin in Venezuela such as Sur del Lago, Carenero, Ocumare, but for more than a year and a half we have dedicated ourselves to working exclusively with Choroní and Chuao cocoa," the founder of Choroní and Chuao told Puro Chocolate. DarikuCaroline Morales.
Likewise, Morales stressed that regarding Choroní cocoa, his search has been focused on the ancestral Creole variety, which preserves the physical characteristics, aroma and flavor of the one planted almost 400 years ago in this area, and which is scattered in different plantations. cocoa in Choroní.
And the result of this is the production of its 75% Choroní cocoa chocolate bar, which, due to its content of ancestral Creole cocoa, gives it a unique flavor and aroma.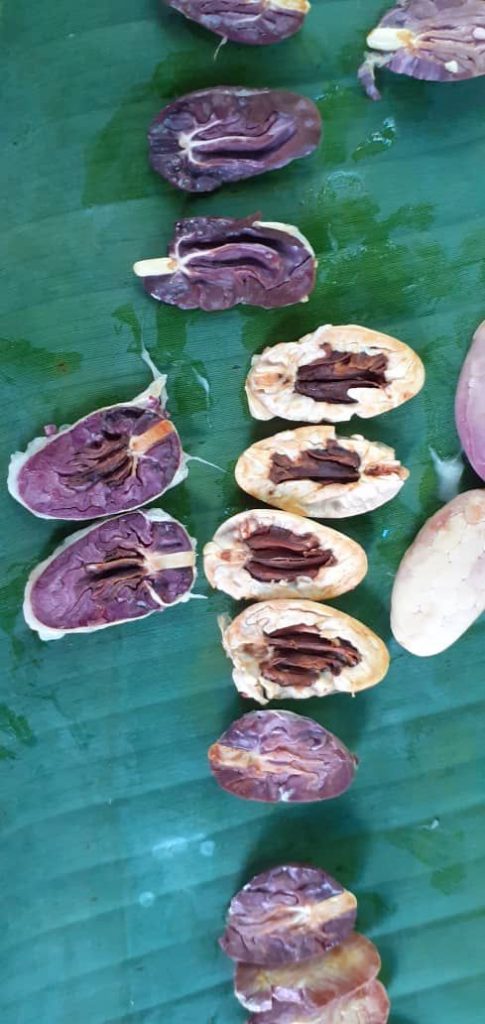 Darïku Chocolatier
The Venezuelan chocolate brand Darïku, with six years in the national market, sows its raw material in the El Charal farm, located 10 kilometers from the town of Choroní, in the state of Aragua.
In this place they began planting cocoa trees about four years ago, in order to make their products with the seeds of their own pods in the future; as well as other plants such as coffee, avocado, citrus fruits, and orchards of various herbs, with which they combine the tablets, infusions and chocolate creams they make.
Darïku has a Retail line where you can find Cocoa Beans, Gourmet Snack Cocoa Beans, Cocoa Nibs, Cocoa Liquor, Cocoa Powder and Infusion.
And the Choroní Icons line, which contains five chocolate bars of different flavors and colors in 70-gram presentations.
The white chocolate and spices (white color), the white chocolate with turmeric and spices (yellow color), the 65% cocoa chocolate with turmeric and spices (brown color), the white chocolate with herbs and spices (green color ) and the chocolate 75% Choroní cocoa with spices (blue color).
They also have an 80% cocoa chocolate bar sweetened with stevia, in presentations of 70, 110 and 250 grams; the chocolate tablet 70% Chuao cocoa and spices of 70 grams; Chocolate Custom, which is a hand-painted personalized bar, 70, 110 and 250 grams; and Intervened Chocolate, which are chocolate bars with various percentages of nuts or dehydrated fruits.
The 230-gram white chocolate cream with coconut and the 55-gram 230% cocoa chocolate with cashew, and its long list of solid chocolates and liqueur-filled, ganache and fruit-filled chocolates.
All these products can be obtained at the Arakemo inn store, located in Puerto Colombia, Choroní, in Maracay, and orders can be made from any city in the country.